Spotlight & Giveaway: Claiming The Doctor's Heart by Sean D. Young
Posted December 2nd, 2020 by Sara @HarlequinJunkie in Blog, Spotlight / 0 comments
Today it is my pleasure to Welcome author Sean D. Young to HJ!

Hi Sean and welcome to HJ! We're so excited to chat with you about your new release, Claiming The Doctor's Heart!

Thanks so much for have me on the blog today!

Please summarize the book a la Twitter style for the readers here: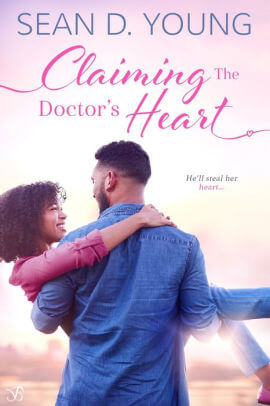 Big city doctor is thrown into the role of in his small hometown. He only has thirty days before he has to return to Atlanta or he'll loose the opportunity of a lifetime. How can he leave the woman he's falling in love with and his family legacy behind?

Please share the opening lines of this book:
Holly Ransom's heart jerked as her perfectly good cream
puff pastries tumbled to the floor. "No!" She reached out to
try to stop them, but it was too late. Her pretty presentation
she'd worked so hard on was ruined. "Surely, this isn't
happening."
Please share a few Fun facts about this book…
This is book #1 in my Welcome to Clover Creek Series. I'm so excited about it.
The heroine (Holly) loves to wear her grandmother's old apron.
I found myself laughing and crying as I wrote this story.
My grandmother used to make tea cakes, just like Holly's.
I want to enter a baking competition too.
What first attracts your Hero to the Heroine and vice versa?
Holly had a crush on Eric when they were in high school. So when the book opens and he shows up, it brings back memories for her.
Eric slowly sees Holly is a special woman when she starts to help him get his footing at the clinic.

Using just 5 words, how would you describe Hero and Heroine's love affair?
unexpected, admiration, attraction, trust, supportive.

The First Kiss…
Holly actually kissed him on the cheek in front of half the town.
He kissed her during the thunderstorm.
Without revealing too much, what is your favorite scene in the book?
For a few seconds, they observed the guests on the dance
floor, but when the music changed, Eric reached for her
hand. "Let's dance," he said, squeezing it for reassurance.
Holly hesitated. She couldn't remember the last time
she'd danced with a man. "I don't know, Eric." She didn't
want to give folks even more to gossip about.
"It's harmless," he said, giving her a dimpled smile.
"And you don't want to miss the chance to be in my arms."
Holly stifled a laugh. Eric could be so silly sometimes.
If your book was optioned for a movie, what scene would be absolutely crucial to include?
"You were the star of the evening. People will be talking
about that wedding cake for months to come," Eric said as
they continued to sway to the music.
Being complimented by a handsome man wasn't an
everyday occurrence. Holly was so glad that he couldn't see
her blushing. The sexy tone of his voice and the words he'd
spoken made her swoon.
"I'm not going to lie, I was teasing you about wanting to
be in my arms," he whispered. "But the truth is I've longed
for this moment since the last time we were together," he
said softly, holding her against him.
A quiver went through Holly as she allowed his words
to sink in. Her world was changing right in front of her eyes,
and it wasn't a fairytale. Eric was holding her like she was
the most precious thing in his life.
Holly looked up, her eyes meeting his. "I can't think of a
better place than this moment. "It just feels so right."
His eyes darkened with desire, and his hands remained
around her waist. Now she knew how Whitney Houston felt
when she danced with that guy in Waiting to Exhale. She'd
gotten so lost in being in Eric's arms, she didn't realize the
song had ended. The other guests were clapping—some
even whistled at them. Eric stopped, and she finally opened
her eyes, looking around to find that they were the only two
people on the dance floor.
Holly threw her hand up to her face and turned her
back. She was mortified. Eric laughed, catching her hand.
He playfully took a bow and prompted her to do the same.
He twirled her around one last time. "I really enjoyed that,
didn't you?" he asked her. "Just me and you."
Readers should read this book …
They dynamics of two people who grew up in the same small town; one left and the other one stayed. I think the contrast of their lives and the way they see the world will be related. The book also speaks to what many of us can relate to having to take care of our parents. Falling in love unexpectedly can be both fascinating and scary. I believe the tenderness that Eric and Holly feel for each other is relatable. It's a nice heartwarming story that I think readers will enjoy.
What are you currently working on? What other releases do you have planned?
I'm currently working on Secrets From The Heart which is book #2 of the Welcome to Clover Creek Series. It should be released some time in 2021.
Thanks for blogging at HJ!
Giveaway: Claiming The Doctor's Heart Coffee Mug, Signed Print Copy of Book and Sean D. Young Author key chain
To enter Giveaway: Please complete the Rafflecopter form and Post a comment to this Q: Do you have something that was passed down from your grandmother?